CONGRATS TO THE WINNER!

Jaime said... 11 I have your buttons on my blog
http://copperllamastudio.blogspot.com/
copperllama at yahoo dot com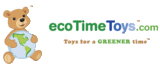 It's no big secret that my little man is obsessed with trains! He is in love with ANYTHING train! You hear a constant Toot Toot in my house. My little man was lucky enough to get the My 1st Train from Holgate Toys for a review from ecoTime Toys! This pull train is great for the hand-eye coordination and large motor skills! Little man absolutely LOVES it! I think he likes that it is bigger than his other trains so he often runs them over with his new larger train! It is also wooden so it is made to last for a long time!
ecoTime Toys is a wonderful store! They sale tons of great eco friendly toys that are also safe for your little one! No need to worry about the paint on these toys, like so many moms do!
Win it:
EcoTime Toys
is offering one lucky reader a $30 gift certificate to their store. I just need you to tell me how you would spend this if you won
Extra entries:
-Tweet this contest @thenursemommy. You can do this one time a day for a daily entry.
-Follow ecoTime toys on twitter @ecoTimeToys
-Become a Fan of ecoTime Toys on
Facebook
-Join ecoTime Toys mailing list for 5 entries
-blog about this giveaway with a link back here for 5 entries
-subscribe to my blog via email
-follow this blog
-email three friends and CC it to nursemommypaige@yahoo.com
-add my NEW button to your blog
-Follow me on Twitter: nursemommy07 (button on left side)
-favor me on technorati (button on the left side)
Rules:
-ends 10/17 at 10pm